Cutting Edge Power magnetic solar panel mounts are perfect for mounting a standard solar panel on steel, galvanized steel, or any other ferrous metal.  With up to 175 lbs holding force per bracket, they live up to the heavy duty Cutting Edge Power design requirement.
Mount your panels fast and easy, or be able to remove them quickly with just magnets.
No unnecessary drilling required through your roof!
Perfect for permanent or temporary installations.
Includes safety tether to prevent panel from sliding.
Each mount is rated for 175 LBS holding force* (4 minimum recommended per solar panel, 4 x 175 = 700 LBS total).
Many different mounting possibilities.
Assembled and quality checked in USA from domestic and foreign parts.  
What's included:

Pre-assembled solar panel bracket(s), with stainless steel hardware
6" Safety tether to prevent brackets from sliding.
Stainless steel 1/4" bolt(s), washer(s), and locknut(s) for mounting the bracket to your solar panel (1 set per bracket)
*The mounts are rated for 175 lbs each using the supplied washers. If your sheet metal is thinner, this rating will be reduced. If you have paint between the mounting surface and the magnetic solar panel mount, the rating will be reduced. And lastly, the 175 lb rating will also be reduced if you are mounting on a curved surface, such as a car or truck roof. If you aren't sure if our magnetic solar panel mounts are a good solution for your application, our suggestion is to try them out and if they don't hold up to your expectations, we accept free returns within 30 days.  Always use the supplied safety tether.  Cutting Edge Power Inc. cannot be held responsible for any damage or personal injury caused by the use/misuse of this product. 
---
Customer Reviews
Write a Review
Ask a Question
11/17/2021
Chris W.

United States
Crazy strong
I have a bunch of solar panels that I am placing on a shipping container and was looking for something that would be easy to install and make it so I wouldnt have to drill into the container. I live in an area with that gets winds in excess of 50 miles per hour. These magnets have passed every test I have thrown at them and have exceeded all of my expectations. They are incredible and I really only have one issue. That is the price. I do not know how much magnets cost but 100 for four seems a lot. If these were even 50 dollars for four I would be all over them. At 100 for four if I wanted to secure all my panels it would cost more then I spent on the panels.
01/24/2021
Stephen C. Kilby

United States
Road tested
I bought these Magnets to mount a 160 watt solar panel to my 2019 Dodge Caravan and I'm impressed on how well they hold. I used all 8 brackets and I did do a HWY test up to 65 miles an hour and the magnets did not move at all. Some suggestions though. Make sure your roof surface is free of dirt or oil so the magnets have a clean surface to stick too, also you will notice I used a wind deflector so air is channeled over the panel instead of under it. Either way, I don't think you would have any issues because they stick like glue.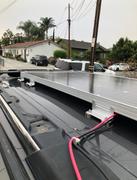 01/24/2021
Celso d.

United States
They're magnets and magnets are the greatest thing on Earth
They do hold strong but there were two problems for me. One was my fault, the other not. 1. They couldn't lay flush against the roof of my car and therefore couldn't maintain the kind of strength necessary to give me confidence it would hold. That's my fault though. I thought I could make it work. 2. The rubber feet don't fit well out of the box but you can just nick them a little to make them pay flat against the magnets. No biggie. They're also wholly unnecessary. Support was great even though parts were missing so I had get them sent out. It was no hassle. I give them 5 stars because they will do the job but I want to be clear about what you can expect. Big ups to the manufacturers for working through the Apocalypse of 2020.