One of our most popular solar products, our solar panel weatherproof cable entry is perfect for speeding up your next solar project!  Ideal for routing the cables while mounting solar panels on vehicles, boats, roofs, buildings, sheds, etc.
DESIGN FEATURES: 
Solar panel connectors

 

pre-assembled, pre-wired and ready to install
1/8" thick

 

heavy duty UV resistant housing, thicker than all equivalent housings available.
Thick

 

silicone

 

o-rings seal better and last longer than typical nitrile rubber gaskets
Gasket channel

 

allows better adhesion and a dedicated place for adhesive for a perfect seal.
Heavy duty 10 AWG

 

copper THHN wire with nylon jacket for easy routing, 5FT (5+5+5+5 = 20FT total)
3/16" thick flange

 

includes (4) pilot hole indentions for screws, if needed.
Assembled in USA, housing made in USA
SPECIFICATIONS:
Max ratings (per solar panel connector):
Max recommended temperature range: -40°C / -40°F to 55°C / 131°F
Gasket type: Silicone rubber
VARIATIONS:
STANDARD: Includes orange Wago connectors (similar to traditional wire nuts, except easier to use)
WITH CONNECTORS: Includes solar panel connectors on both ends as shown.
---
Customer Reviews
07/28/2020
D. Villalpando
Just what I needed - an easy external port for portable solar panel
This partly 3D printed part worked perfectly for my needs! I wanted to add a solar charging port to my teardrop so I could attach a movable solar panel to charge the batteries if I was parked in the shade. I just drilled a couple small holes for the leads in the exterior of the trailer, attached the connector to the siding, wired up the leads, and that was that. Simple and effective. Thank you!!!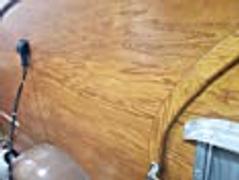 07/23/2020
gsownsby .

United States
A Great Way to Route Solar Power
I received this a day or so ago and installed it today. Other than drilling a 3/4 inch hole through the exterior siding of my workshop/storage shed, the installation was a breeze. I put a bead of clear silicone sealer (caulk) around the outside edge as it doesn't come with a seal of any kind. Based on personal experience with outdoor devices and connectors that leave small holes or openings exposed, I suspect I'll put something removable in the two unused connectors to keep the solitary insects from stuffing them full of dead bugs for their unmatched eggs. This is a great connection device to make it easy to connect/disconnect solar cables and to have a neat entry point.
Great buy.
Great quality. Thick housing is sturdy. Easy installation. Much easier to hook up my camper to solar
07/12/2020
Al G.

United States
Worked great for me
I used 2 of these MC4 housings for an at home installation. I place one outside under an overhang and another in my utility room. I used the included wago connectors to connect the housings together. Now when I want to charge my Yeti 1000, all I have to do is connect to the inside housing and connect solar panels to the outside housing. The cables are robust. The housing is solid, but 3D printed. That's not a problem but remember that 3D printed plastic isn't very hard. I did some cosmetic damage to one housing with my drill. I have had some rain since installation, but the outside housing isn't really exposed to direct wind, sun, or rain. I didn't even caulk it. I can't speak to how these housings will hold up in direct sun, rain, wind, etc. For my application, I'm very satisfied.
07/12/2020
Repro63

United States
Great solution
I built a so called "Solar Generator" and was looking for a way to connect my solar panels to it. I used a big utility box with wheels for my generator, and didn't want yet another connector for my panels. I wanted to stick with MC4 to minimize cables and adapters. This connector was the perfect solution. It is so easy to install and comes pre-wired with 10 AWG wire and quick connectors for up to 50 amps of current capacity. I simply surface mounted this to the side of the box and wired it to the solar charge controller. Now I can connect my solar panels to it by using the MC4 connectors directly from my panels. No need for making additional cables or using more adapters. Minimizing connections is the key. I love this connector. It is very well made (in the USA), robust and weatherproof. It performs great and makes my design much easier to use. This connector is a great value for the price and I give it 5 stars.