Join the Internet of Things revolution with this DC power meter!  Featuring our Cutting Edge Power Smart Tech FREE Android / IOS app that you can use to monitor the turbine's output in real time.  Easy pairing through your standard WiFi router or phone's hotspot, you can view the measured voltage, current (amps) and the power output (Watts).  
This Wifi smart power meter is perfect for measuring DC power generation from small to medium sized wind turbines, solar panel arrays, hydro power generators or any other DC power source.  It is also perfect for measuring power consumption from devices such as 12V DC / 120V AC inverters, DC motors, etc.
Assembled in the USA, many of the components are domestic, including the chip that makes it all happen - from Texas Instruments.
This power meter is also an excellent topic for academic discussion.  Renewable energy and energy independence are the way of the future.  
TOP FEATURES:
Works with any DC circuit (7-60V, 0-200A)
Perfect for wind and solar power generation
Access real-time and historical data from anywhere in the world (as long as the power meter has wifi internet access)
View and log

Voltage (V) (instantaneous / average / peak)
Current (A) (instantaneous / average / peak)
Power (W) 

 (instantaneous / average / peak)

View and log total power for monitored time period, and monitoring time.
Measure and log up to 12,000W (200A max)
Tough, non-conductive plastic housing can mount easily to a horizontal or vertical surface such as a wall or table.
Low power consumption design powered by your circuit, removing the need for batteries or an external power supply.
Designed and assembled in Houston, TX and Dallas, TX, USA.
SPECIFICATIONS: 
Voltage: 7-60 VDC 
Current: 200 ADC max
Idle power consumption: <1W
WiFi Requirement: Standard 2.4Ghz, internet access
Operating Temperature: -40°F to 140°F (-40

°C to 60°C)



Error: See graph
Voltage Accuracy: 

±2% (±1.2V)

Current Accuracy: 

±2% (±4A)

Resolution: 10 Bit (

± 196mA)

Weight: 1 lb
Cable dimensions: 5"L x 4"W x 2"H
Use of this Smart Turbine and/or our Cutting Edge Power app means you accept our Cutting Edge Power Inc Application Software License Agreement.  To obtain a copy of this agreement, contact us or visit our web site.
---
Customer Reviews
Write a Review
Ask a Question
Filter Reviews:
comparison
quality materials
turbines performance
reporting settings
output tracking
track
delays
products
tool
12/30/2021
Rizz B.

United States
Great Quality Product
Shipping could have been better but vendor kept me informed of delays. This is a great tool for keeping track of your turbines performance. I like it has multiple reporting settings from live to 1 month output tracking. I have tried a few different products and they fail in comparison to this product. It is well made of quality materials and made in the USA . It does cost more but well worth it.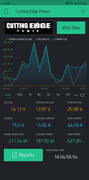 11/05/2021
Anonymous

Australia
I would like to be able to review it but .....
It has still not arrived so I cannot review it. In face DHL has not updated the shipment status for days!!!