This charge controller uses a modern solenoid relay that can handle up to 10,000,000 mechanical cycles, which outperforms the old-style starter relays.  It includes super easy to use adjustment parameters that anyone can understand!
The non-conductive plate is made in USA and designed specifically for this controller.  This charge controller is set up for lead acid battery settings by default, but has multiple user adjustable settings including maximum voltage (U>), Low voltage (U<) and stabilization time (Tt).  Stabilization time prevents the charge controller from cycling too many times if your voltage bounces around one of the voltage settings.
DESIGN FEATURES:  
Rated for 12V, 24V, or 48V DC
No digital controls with a single button to fumble with!
Rated for 200A or 400A
Pre-wired and turn-key.
Visually indicates battery voltage as well as normal/trip status.  The charge controller also flashes the trip light during the stabilization time.
Pros love it: Includes an extra set of common/NO/NC relay contacts for other controls or indicators.
The easiest way to protect your battery and turbine.
Components are mounted on a high-temperature 1/8" thick non-conductive plate made in USA.  This product is assembled in USA from domestic and foreign parts.
Specifications
Battery Chemistry Compatibility:

Deep Cycle Lead Acid

Flooded Lead Acid

Sealed Lead Acid (SLA)

Gel

Lithium

Lithium Iron Phosphate (LiFePO4)

3S Lithium Nickel Cobalt

Mechanical Life Expectancy:

10,000,000 cycles

 

Operating temperature:

-22°F to 140°F (-30°C to 60°C)

 

Voltage range:

12V Version: 10-17V DC

 

24V Version: 20-34V DC

 

48V Version: 40-68V DC

 

Maximum Power Rating:

 

12V Version:

200A Version: 2,400W

400A Version: 4,800W

24V Version:

200A Version: 4,800W

400A Version: 9,600W

48V Version:

200A Version: 9,600W

400A Version: 19,200W

Stabilization time:

Adjustable from 0-15 seconds

 

Rectifier (if equipped):

3 phase to DC, 150A max 

 

Sensing wire length:
5 Ft
Sensing wire connector:
5/16" (8mm) ring terminal

Dimensions:

5"H X 5.5"W X 3.25"

 

Weight:

1.5 LB

 

Warranty:
1 Year
Downloads
Charge controller without rectifier wiring diagram
Charge controller with rectifier wiring diagram
---
Customer Reviews
Write a Review
Ask a Question
Filter Reviews:
upgrade
Finland
discriotion
solar power
wind
wind turbine
installation
surface
front
answering
09/24/2022
Lasse F.

Finland
Wind turbine controller with dump resistors,
I live in Finland off grid and I have used wind and solar power since 1979. This year I made an upgrade. New Powerexon batteries 6x250Ah. Panels LA-Solar 2x390W. Connected in series. So 780W and up to 70V. Victron 100/50 controller. Wind turbine 500W. First I installed a chinese controller. To cheap and small to be good. After replacing the first one the new one burned again after two months. I added USA when I googled and found the Cutting Edge Power wind turbine v controller plus dump resistors. The installation went smoothly and it works perfectly. The only thing which should be added with the delivery is a short discriotion how the voltage monitor should be adjusted to syncronise with the solar controller by setting correct values on the voltage monitor.. Even if it is self explanatory that the dump resistors must be installed on a non flammable surface but a note about this could anyhow be added. It easy for me to recommend this product. Remmember that that dump resistors effect should be approx 3 timmes the wind turbine.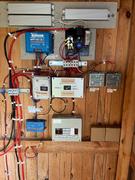 08/23/2022
Anonymous

United States
Charger control
Fantastic really like this
03/22/2022
Anonymous

Australia
Product great
The item is fantastically well put together but a little disappointed in communication wasn't informed of a build delay when paying for it up front and answering of questions when asked was dismissive